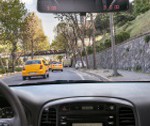 Windshield wipers have been around almost as long as automobiles, with the first being developed in 1903 and operated by a handle that moved the wipers back and forth. Today's auto glass is kept clean and free of debris by the electric windshield wipers that we know and love, but they may become outdated if McLaren Automotive in the UK is able to develop a windshield that is kept clear with high-frequency sound waves.
McLaren is a supercar manufacturer, probably best known for the F1, and the company creates vehicles based on Formula One technology. One of the company's chief designers asked a military source why some aircraft do not have windshield wipers. While some might expect that the glass in this type of aircraft is treated to keep it clean, he was told that a high frequency electronic system is used to prevent anything from attaching to the windscreen.
McLaren has decided to take the technology that keeps the glass of these aircraft clean and modify it to work for automobile windshield glass. The new system would apply high-frequency 30kHz sound waves to the windshield, which in effect creates a vibrating force field that prevents rain, snow, bugs or dirt from attaching to the glass.
If McLaren is able to develop this technology so that it will work on automobiles, it is expected to be able to improve driver visibility as well as reducing the weight of cars, which is supposed to lower fuel consumption. How much difference that would make in a standard car may be up for debate, but the new system would probably do a much better job of handling dead bugs, bird droppings and other items that normally leave smears on auto glass when you try to remove them with wipers. Additionally, ultrasonic frequencies could generate heat from the vibration of the windshield, which would deal more effectively with icy or foggy glass than existing defrost systems in cars. Finally, windshield wiper replacements would be a thing of the past, along with worrying about scratched glass from old, damaged wiper blades.
Do not expect to be able to go to an auto glass service in Houston anytime soon to have this new technology installed in your vehicle or to be able to buy a new car with this technology. Although McLaren has indicated that the company intends to make this technology available to the public and there are a number of patents with especially promising designs from a UK engineering firm, there is no planned introduction date. In fact, they are just calling it an idea at this point.
Even if the company were ready to mass produce a new wiper-less system to keep windshield glass clean, they will have to overcome legal obstacles before it is allowed in the United States. Currently, federal motor vehicle regulations require that automobiles be equipped with windshield wipers that have two frequencies or speeds. Since the new system would not even have wipers, the laws would need to be changed to allow automobiles in the U.S. to be produced without requiring wipers.
The National Highway Traffic Safety Administration (NHTSA) has stated that it will only consider making changes to federal requirements when the administration's data or research indicates the need. They will also consider revising regulations when a petition is filed for a change, but no such petition has been filed yet. The NHTSA did comment on the proposed system, and it indicated that there is not enough information currently available to make any type of determination regarding whether it would comply with existing regulations.
For more information about the latest in auto glass ultrasonic windshield technology, including Houston windshield replacement and repair options, contact Apple Glass Company.