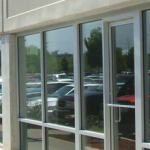 You should understand the difference between laminated and tempered glass if you require glass repair in Houston. Both types of glass have their pros and cons, but laminated glass offers better protection and soundproofing.
Laminated Glass
Laminated glass holds together when it is broken because there is a layer of plastic laminate sandwiched between two sheets of glass. The laminate strengthens the glass, so it resists breakage better than tempered glass. Laminated windows, doors and glass panels are safe for home or business applications due to their resistance to shattering. That lowers the risk of damage from flying shards of glass. Laminated glass doors and windows are good for security because it takes more effort to break the glass and breaking laminated glass makes a lot of noise.
Laminated glass helps keep unwanted sounds out of a building, which is useful if you have a business located in an area that gets high traffic or is in a generally noisy part of town. The extent of the sound insulation depends on the quality of the laminate. Vehicles and boats use laminated glass for its soundproofing qualities since road noise and engine noise can be very loud. Contractors prefer working with laminated glass because they can trim it for a perfect fit.
Tempered Glass
On the other hand, tempered glass is far stronger than non-tempered glass. It can be 10 times harder. When it breaks, it shatters into small glass pebbles as opposed to sharp pieces. However, tempered glass does not bend easily, which makes it unsuitable for custom glass projects or auto glass applications, such as curved windshields. It is also not recommended for custom curved glass partitions, walkways or stairways.
Choosing Between Laminated and Tempered Glass
Laminated glass is used in areas that might be vandalized or where crime is more prevalent and the glass may be smashed by a burglar trying to gain entry to a building. Laminated glass is also the most logical choice for exterior glass in areas that experience high winds and other severe weather conditions, such as hurricanes or tornadoes.
Either type of glass is suitable for interior use. Laminated glass will help soundproof the area and provide extra protection. If you are going to use it for a completely enclosed space like a corporate conference room, you should make sure that the room has an emergency exit. It would be difficult to break laminated glass walls to exit the room if an emergency were to occur.
During a series of break-ins at self-storage sites, thieves were able to gain access to one building after breaking the tempered glass door. The burglars stole cash and other items. Then, they vandalized the office which caused the business a great deal of money to repair.
Across town, would-be thieves were unable to get inside an office because the shattered laminated glass stayed in place after it was broken. That business got off easy because the doors and windows were made of laminated glass. The owner was spared the robbery and only had to replace the door. Since laminated glass is only slightly more expensive than tempered glass, it is a wise choice for doors and exterior windows.
Car windows are made of laminated glass. Some types are tinted to block the sun's UV rays. If you want to replace your windshield with a tinted one, Houston windshield repair company Apple Glass can do the job.
If you need to replace a broken windshield, a shattered door or cracked window, call Apple Glass in Houston at 713-680-1400. If you are in The Woodlands, call 281-296-0600. Apple Glass handles glass installations for homes, office buildings and vehicles. They have been serving customers in Houston and The Woodlands for 25 years. Their experience guarantees that you will get the best results.