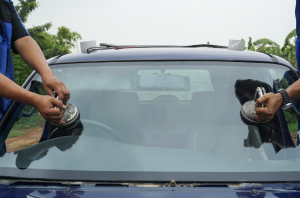 Driving with a damaged windshield can be a safety hazard which you should get looked at as soon as possible. However, you may wonder whether you need windshield repair in Houston or if you need a replacement. Here are a few guidelines to help you determine what kind of service you will need.
When You Need Windshield Repair in Houston:
Many chips and cracks don't require a full replacement. However, how can you tell what can be repaired? There are a few things to consider when looking at windshield chips and cracks.
Size and depth: Cracks can be repaired sometimes up to 18 inches in length and 2 inches in depth. If a crack is fairly shallow and short, you may be able to avoid a windshield replacement.
Type: When looking at the damage on your windshield, there are a few different indicators that it might be repairable. For example, circular cracks and cracks smaller than a quarter typically can typically be repaired.
Location: If the damage is in the driver's line of sight, it may not be able to be repaired. Even great repairs can leave unevenness that could affect your visibility. Additionally, if a crack is near the edge, the windshield may lose its structural integrity or become loose in its frame. Therefore, cracks in these areas are usually not repairable.
With these guidelines in mind, you may ask your certified technician about windshield repair in Houston. They will be able to tell you whether repair is a good option for you.
When You Need Windshield Replacement in Houston:
Some other factors may require a windshield replacement instead. If the damage is bad enough to impair the durability and strength of the glass, your windshield will need to be replaced. In addition to the factors above, there are a few other considerations that mean a replacement is necessary. If the damage is inside the windshield, over the rain sensor or internal radio antenna, or a series of multiple cracks, you will likely need a replacement.
Your safety relies on your windshield. So, it is important that damages are taken care of quickly and by technicians who are certified for auto glass in Houston. At Apple Glass, our team can help you determine the right course of action for windshield damages, whether it is repair or windshield replacement in Houston. We are an experienced auto glass provider with locations in Houston and the Woodlands, as well as mobile services. Call us today at (281) 296-0600 in Houston or (713) 680-1400 in the Woodlands to schedule an appointment or request a quote. We look forward to serving all of your glass needs.