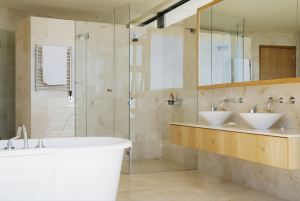 There are many easy ways to add value to your home. One example is upgrading your Houston shower doors. By doing so, you will give your space a more sophisticated look that you will love. Since updated bathrooms can be a key selling point to potential buyers, this can be a great way to add value to your home. Even if your home isn't on the market, you will love the look of frameless shower doors in your bathrooms.
Houston Frameless Shower Doors Look Modern
In the past, shower doors needed a frame around them for stability. However, these types of doors often make your bathroom look dated. Instead, frameless shower doors give a more seamless and modern look to your bathrooms. They require less hardware to distract you from the sleek look of the glass. They are also in line with the more minimalistic, modern style that so many people love. Therefore, replacing your shower door can be an easy way to add an air of elegance to your bathroom, which can help you add value to your home, or simply enjoy your space more.
Frameless Houston Shower Doors Can Make a Space Look Bigger
In addition to this modern look, Houston frameless shower doors can help your bathrooms look bigger. With older shower doors, our eyes are often drawn to the frames and other hardware. By replacing them with newer versions, you, your guests, and potential buyers can instead focus on other aspects of your bathroom. The space will seem to open up before your eyes, without the hassle of knocking down walls.
So, a great, cost-effective way to add value to your home is to replace your old shower doors. If you plan on staying in your house for years to come, they can still transform the space. Both you and your guests will notice a huge difference once you upgrade your Houston shower doors.
At Apple Glass, we can provide the best solutions for your shower doors and other residential glass needs. Call us today at (713) 680-1400 in Houston, or (281) 296-0600 in The Woodlands, to schedule a consultation or to request a quote. We look forward to the opportunity to serve you.