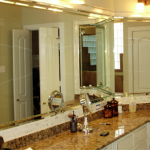 If you are thinking about installing sliding glass doors or already have them, knowing how to clean and maintain them prevents expensive damage and repairs. A Houston glass repair company can handle any structural and installation needs for residential and commercial glass installations, commercial glass repair and Houston auto glass needs. Regardless of whether you get a professional glass installation or decide to take the DIY option, preventative planning and maintenance reduce the risks of breakage, injuries or unsightly smudges that spoil the mirror's decorative ambiance.
Cleaning Mirrored Surfaces
The advantage of having mirrored doors rests on the reflective and optical qualities that make the mirror almost invisible. Keeping doors clean preserves this quality, but harsh window cleaners with ammonia and vinegar can dull the shine and reflective qualities. Eventually, mirrors cleaned this way can develop black spots. Try the following steps to keep mirrored doors looking great:
Use warm water and weak detergent solutions.
Clean mirrors with soft, lint-free cloths or squeegees.
Be sure to remove moisture along the borders because it can work into the edges of the glass and cause fogging and damage.
Dry mirrors with newspaper, paper towels or soft, lint-free cloths.
Never use abrasive cleaners, coarse rags, sponges or brushes on mirror surfaces.
You can protect glass from children's dirty hands or provide areas to handle the door for opening and closing by using decorative clings on the surface. Clings also show that clear mirrors are not open spaces to prevent accidents caused by guests mistaking the mirror for an open door.
Protecting Mirrored Doors
An expert in residential glass repair Houston can help you choose pretreated mirrors that resist fingerprints, oil, grease, fogging and staining. If you are painting or staining around a mirrored surface, you can protect it by taping the area or applying a commercial spray that resists paint and chemicals. Another way to protect your mirrored sliding doors is to seal the edges against moisture so that mirrors do not fog up or become cloudy.
Mirrors pick up dirt from tracks in the floor, so these need cleaning periodically. Tracks also become blocked from the dust and debris on shoes, and this buildup could cause sliding doors to stick. Try vacuuming loose dirt from the track, and use a wet cloth to remove caked dirt.
Trying to force a resisting sliding door is dangerous because the mirror could dislodge, shatter or fall to the floor causing severe injuries. Doors that have mirrors clipped in place can work loose over time from vibrations, so inspect them regularly and replace clips periodically for safety. You can spray the ball and tracks with WD-40 to keep the door sliding smoothly. Keeping your tracks clean, repaired and functional could prevent a catastrophic accident.
Installation and Remodeling Suggestions
Both residential and commercial decorators seldom have specific skills in decorating with glass, and sliding glass or mirrored doors which can be especially risky if not installed and secured properly. Getting professional advice from a Houston glass repair company saves time and headaches while providing a wider array of ideas for using glass and mirrors decoratively and safely. You can even get advice about how to secure glass and mirrors against a storm, earthquake or hurricane damage.
Mirrored sliding doors create an illusion of a larger space and add light to a room as well as eliminating the need to place other mirrors in the room. However, installing any glass product engenders certain risks, so savvy decorators and homeowners use residential glass repair Houston services to get expert installations, repairs and safety advice. Contact Apple Glass for a quote on all your glass needs including Houston auto glass and commercial glass installation and repair.