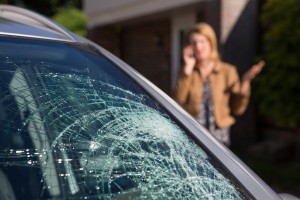 Understanding the reasons for cracks and chips in your windshield will allow you to avoid these issues and reduce your need for a windshield repair in Houston. Many cases of windshield damage are attributable to a few common factors. Taking steps to protect your vehicles from these problems will help you to keep your windshield and auto glass intact for better visibility on the road. Here are a few of the most common reasons for auto glass damage in our area.
Temperature Changes
Extremes of hot and cold will often put stress on your auto glass in Houston. This is especially true when your windshield glass becomes hot because of outdoor temperatures and then exposed to ice-cold air conditioning used to cool down your vehicle. The rapid shift between hot and cold is often a contributing factor to cracks that could require windshield repair in Houston and the surrounding areas. Taking a little time to cool your vehicle more slowly will help you to avoid these issues and ensure the best possible protection for your auto glass.
Pressure Shifts
While normal barometric pressure changes are usually not enough to cause cracks and chips, sharp increases caused by sudden window closure or high-speed travel may require emergency glass repair in Houston. Taking your time and avoiding high rates of speed on highways will not only save you from an unwanted traffic stop but will also reduce the pressure on windshields and windows in your vehicle.
Flying Rocks and Gravel
Back roads and off-road travel are the most common sources of flying rocks and gravel for most vehicles. Following too closely behind a gravel truck or other larger vehicle may also put your car or truck at risk of damage and an unplanned trip to your local auto glass repair company. Semis and big rigs are also frequent culprits that can throw up debris as they make their way across the state of Texas. Staying well back from these vehicles is the best way to protect yourself and your windshield from damage caused by these road hazards.
At Apple Glass, we offer the windshield repair Houston residents depend on to ensure the best results for their vehicles. We maintain two locations to provide added flexibility for our customers. For even greater convenience, Apple Glass also offers mobile auto glass repair and replacement services at a location of your choice. Call us today at 281-296-0600 in The Woodlands or 713-680-1400 in Houston. We look forward to the opportunity to serve you.