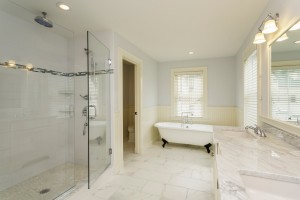 Over time, your Houston shower doors will typically show signs of wear and tear. Addressing these issues quickly and effectively will protect your shower against further damage and will allow you to enjoy your bathroom fully. Many common problems may develop for shower doors and enclosures that need to be addressed promptly.
Sticking Doors
Depending on the cause of this issue, you may be able to resolve sticking shower doors yourself. A buildup of soap scum is often the culprit for sticky doors and can be removed using dish detergent or a commercial cleaning solution and a little elbow grease. If you notice cracks or damage to your shower glass, call a Houston glass repair company right away to resolve these issues without the need for a full replacement.
Loose Screws
Screws that have worked loose may prevent your shower doors from closing completely or may make it difficult to open them. In most cases, you will be able to resolve these issues yourself with a screwdriver and a little investigation. If there are other issues that are complicating the problem, you may want to consult a Houston shower doors specialist to determine solutions for your shower issues.
Leaks
Investing in new Houston frameless shower doors will resolve most leaks and will create a new and modern look for your bath. Your glass repair company may also be able to preserve your current shower door setup and replace only the glass panels responsible for the leaks. Depending on your preferences, you will be able to upgrade or repair your showers to eliminate leaks and to restore the functionality of your showers.
Scratches and Discoloration
Scratches, fogginess and discoloration of your Houston shower doors typically require a visit from your local glass repair and replacement company. Polishing of your shower panels may be necessary to restore their original beauty. These procedures should only be performed by a trained professional to make sure that you achieve desirable results. By giving your local glass repair company a call, you will be able to schedule a consultation or request a quote for new doors or for glass replacement services.
Hard Water
Investing in a water softener for your Houston home will reduce buildup on shower doors and metal hardware. This will help your shower doors last longer and perform better for you and your family.
At Apple Glass, we take pride in offering the most advanced and practical residential glass options for our customers. Call us today at 713-680-1400 in Houston or at 281-296-0600 in The Woodlands to schedule a consultation or to get a quote from us. We look forward to the opportunity to serve you.