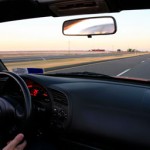 One of the most innovative developments in the Houston auto glass industry is the smart windshield, which is designed to provide a heads-up display for drivers that can offer valuable information about road conditions, navigation and potential hazards that could pose a threat to vehicles, their drivers and passengers. Some experts believe that the added data provided by these windshields could potentially increase distractions for drivers and may result in an increase in accidents involving vehicles equipped with these new technologies.
A Matter of Perspective
Heads-up windshield displays have created some controversy among automotive experts. There are at least two schools of thought regarding the safety and utility of these systems:
These displays allow drivers to access valuable information without taking their eyes off the road. If the data provided was not available on the windshield display, drivers would be looking at GPS units or phones to obtain the same information. This could lead to even greater risks and distractions for drivers than those posed by heads-up smart windshield displays.
Studies have shown that tracking the information displayed on smart windshields can increase reaction times for drivers to a considerable degree. Researchers at the University of Toronto found that driver reaction times were 200 percent slower when they were presented with multiple visual tasks like driving and reading information on the screen.
Proponents of the smart windshield believe it can provide added safety by reducing the need to interact with smartphones and other mobile devices during driving. By putting all relevant information in front of the driver without reducing visibility, smart windshields could effectively replace smartphones as part of the driving experience.
Increased Costs for Windshield Replacement
One serious issue that may limit adoption of smart windshields may be the skill set needed to repair or replace these technologically advanced glass products. The large-scale implementation of smart windshields could potentially have a major effect on the cost of a windshield repair in Houston. By working with an established Houston auto glass repair company, however, companies and individuals may be able to enjoy the most cost-effective solutions for all their windshield replacement or repair needs. Choosing a reliable Houston auto glass company can also help you manage any concerns about safety for your new windshield installation.
If you need expert windshield replacement in Houston, the team at Apple Glass can provide you with the right options to suit your needs, your schedule and your budget. We maintain brick-and-mortar shops in The Woodlands and Houston to ensure the greatest convenience for you. Our mobile repair team can also come to your location to repair or replace your auto glass at your convenience. Call us today at 713-680-1400 in Houston or 281-296-0600 in The Woodlands to request a free quote from us. We look forward to the opportunity to serve you.