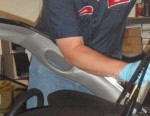 To a regular consumer, it can be difficult to distinguish a scratch in a windshield from a crack. If the windshield is cracked, it has to be repaired to prevent further damage to the glass. A scratch is not as serious, but it is a good idea to take your vehicle to a Houston windshield repair professional to determine if the damage is a crack or a scratch. A pro can sometimes get rid of a scratch entirely or at least lessen it to the point where it is not an issue.
The difference between the two flaws is simple. A scratch does not go all the way through the glass. A crack does. A scratch can worsen over time and cause problems in bright sunlight or when a passing car's lights strike your windshield while you are driving at night. A crack can spread and become so dangerous that it requires a Houston windshield replacement.
Scratches can be caused by worn-out wiper blades or a blade with a small piece of debris lodged beneath it. Usually, they are the result of fine bits of gravel that bounced onto your vehicle. There is no way to avoid road shrapnel that is kicked up from the highway by other cars or that falls from the back of a truck that you are following.
A scratch can be buffed out of your windshield with special polish and a buffer or with a buffing wheel attached to a low-speed drill. How successfully the scratch is removed depends on how deep it is. To check the depth, try to slide your fingernail in the scratch. If you can feel the scratch with your fingernail, it may already be too deep to repair.
The process requires a gentle touch and a scratch repair kit used by an auto glass Houston technician. It is easy to worsen the scratch if you try to do it on your own. It is better to do the smart thing. Take the vehicle to Apple Glass where you can get a quick estimate for the repair. The cost would depend on the number of scratches, the severity of the damage and the size of the affected area.
Apple Glass has almost three decades of experience repairing and replacing windshields. We can analyze the problem for you and fix it quickly. Our phone number in The Woodlands is 281-296-0600. If you need service in Houston, you can reach us at 713-680-1400. We also handle glass replacement in home and businesses. Our experience and references are our proof that we are a company you can trust to do the job correctly.
Save
Save