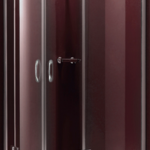 Choosing the right glass for your shower enclosure or doors can enhance the beauty of your bathroom and can deliver real value for your home improvement project. Enlisting the services of a company that specializes in Houston frameless shower doors can provide you with expert guidance at every step of the remodeling process. You can choose from a wide range of glass finishes and products, allowing you to create a truly unique look for your bathroom. Here are some of the most popular glass finishes, materials and configuration options to consider when creating the bathroom you have always wanted.
Types of Glass for Frameless Shower Doors
Clear Glass Shower Doors
One of the most commonly used materials is also one of the most versatile. Clear glass allows you to see into your shower and ensures that your custom tile selection can be clearly viewed at a distance. This can enhance the overall beauty and visibility of your shower and bath at an extremely affordable price.
Frosted Glass Shower Doors
For a more opaque appearance that offers greater privacy and increased elegance, frosted glass is an excellent choice for your Houston shower doors and enclosures. The exterior surface is usually acid etched to create this effect. In most cases, the interior surface of frosted glass is left smooth to allow easier cleaning and to ensure the most comfortable experience for your entire family.
Rain Glass Shower Doors
The distinctive look of rain glass makes it a preferred choice for custom glass shower doors and enclosures. The pattern etched into the exterior side of these glass products mimics the natural look of rain flowing downward, making this a beautiful addition to any bath in your home. As with other etched glass products, rain glass is left smooth on the interior side to speed cleaning and ensure optimal hygiene for you and your family.
Tinted Glass
Depending on your home décor, tinted glass options are available to enhance privacy on frameless shower doors and complement your current color scheme. Your Houston glass company can provide you with a range of options that include bronze and rose-tinted glass, dark glass and shades specifically designed to suit your bath and your overall interior decorating strategy.
Heavy-Duty Glass
In most cases, heavy-duty glass offers significant advantages over lighter-weight options. This durable and rugged glass can stand up to regular wear and tear and can often resist minor to moderate impacts for greater safety in the bath area. Upgrading to heavy-duty glass can also offer greater stability for frameless shower installations.
Cast Glass
One of the most versatile choices for your shower doors or enclosures, cast glass can be configured specifically to suit your design requirements. Also known as art glass, cast glass is fabricated and then subjected to extreme heat to ensure the greatest durability for your home shower. Almost any design or logo can be incorporated into these advanced glass products, making them a premium choice for your Houston home.
Frameless vs. Framed Shower Enclosures
Frameless shower doors and enclosures have gained considerable popularity in Houston over the past few years. Opting for these elegant and functional installations can help you enhance the beauty of your bath and may even increase the resale value of your home in the future. Framed enclosures typically cost less and offer solid reliability for homeowners on a budget.
At Apple Glass Company, we are an established leader in glass items like frameless shower doors and enclosures, Houston windshield replacement and repair. Our experienced and skilled technicians can also provide you with the best array of services for your home, including expert design and installation of frameless and framed shower enclosures and doors. To learn more about our residential glass services, call us today at 713-680-1400 in Houston or 281-296-0600 in The Woodlands. We look forward to discussing your home remodeling project with you.
Save
Save