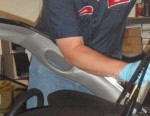 Keeping your Houston auto glass in good condition can enhance visibility and ensure greater safety for you and your passengers on the road. When nicks, chips and small cracks appear, your local auto glass repair shop will typically provide you with immediate service to prevent these little problems from turning into major issues over time. Here are some of the most important facts you should know about Houston windshield repair for your vehicle.
Windshield Damage
There are many types of windshield damage, chips, dings and other small areas of damage are usually repairable if they are not directly in the driver's line of vision. Small cracks also fall into this category unless they are located at the edge of the windshield. Larger cracks or networks of cracks, however, may require replacement rather than repair to ensure that you and your passengers are safe and that you enjoy clear visibility when driving your vehicle on public streets and highways.
Not All Damage Can Be Repaired Safely
While minor cracks and chips can usually be repaired to restore your windshield to near-new condition, larger cracks may require a complete Houston windshield replacement. This is especially true if the damage is located in the line of sight of the driver. Reduced visibility can result in an increased risk of accidents. Larger areas of damage, especially along the edges of the glass, can also compromise the structural integrity of your windshield. This can limit the protection these components can provide in the event of a collision. By consulting with a company that specializes in these types of Houston auto glass repairs, you can be sure of the most effective repair solutions for your auto glass and for your budget.
Professional Resin Repairs Can Stop Cracks from Spreading
Unlike the patch kits available at some auto supply stores, the services offered by professional Houston windshield repair shops can stop cracks and chips from spreading and causing further damage. By injecting glass repair resin directly into the crack or chip and then heating it to a high temperature, your auto glass technician can create a virtually invisible repair that can strengthen your windshield and prevent the spread of damage to other areas.
The Houston auto glass experts at Apple Glass can provide you with the most accurate advice and guidance on repairing or replacing your windshield. We serve The Woodlands and the Houston metropolitan area with two convenient locations. Our mobile team can also travel to your home or office to provide you with the most advanced windshield repair services in the industry. Call us today at 281-296-0600 in The Woodlands or 713-680-1400 in Houston to schedule your appointment.