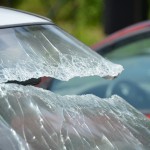 Flying rocks and debris caused by large trucks and fast-moving vehicles on the road can cause serious damage to your Houston auto glass. If you need a Houston windshield replacement because of damages caused by another car or truck on the road, you will usually be responsible for the cost of repairs or replacement. Here are some questions that may help you determine whether you or another party will be required to pay for necessary repairs to your auto glass.
How Close Were You Following?
As a general rule of thumb, you are responsible for your Houston windshield replacement if you were following closer than 100 feet behind the offending vehicle. Most trucks that carry rocks and other heavy loads also bear signs stating that they are not responsible for damage to windshields and to stay back at least 100 feet. Taking this recommendation to heart can help you to avoid many instances of damaged auto glass before they occur.
Did the Rock Bounce Off the Ground Before Striking Your Windshield?
In most areas, trucks are not legally liable for rocks and other items that fall off their loads, bounce off the pavement and strike the windshield of another vehicle. As soon as debris or a rock makes contact with the road, it is legally considered a road hazard. This places the responsibility for resolving the issue squarely in your corner.
Was the Truck Overloaded?
If the truck that caused the issue was significantly overloaded, you may have a case to get the driver or the transportation company to pay for the damages. Overloading trucks is illegal and dangerous. Taking a photo of the truck can sometimes serve as sufficient evidence to encourage drivers and companies to do the right thing and to pay for your Houston windshield repair or replacement costs.
Do You Have Evidence?
Dashcam video is often the best form of evidence when pursuing compensation for a Houston windshield replacement. An admission of guilt by the truck driver or photographic evidence that the truck was dangerously overloaded can also help you make your case both in and out of the courtroom.
No matter how your windshield was damaged, Apple Glass can help with proven solutions to restore your auto glass in Houston. We can provide you with expert help in repairing or replacing your windshield at either of our two brick-and-mortar shops or at a location of your choosing. Call us today at 281-296-0600 in The Woodlands or at 713-680-1400 in Houston. We look forward to the opportunity to serve your Houston auto glass repair and replacement needs.