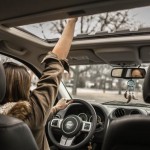 Sunroofs can offer added flexibility and comfort for drivers and passengers, especially during cool mornings and evenings. Damage to this component of your vehicle, however, requires immediate attention from your Houston auto glass company to prevent further damage to the interior of your car and to ensure the safest journey to your destination for yourself and your passengers. Here are some key points to remember about sunroof glass repair in our area.
Types of Sunroof Configurations
Sunroofs and moonroofs are available in a wide range of configurations. Fixed sunroofs typically pop up to provide added ventilation and may be removable for easy cleaning and maintenance. Sliding sunroofs are available in a variety of configurations, including the following:
Solar sunroofs are one of the most technologically advanced options and use opaque glass that soaks up the sun to power the opening and closing mechanisms.
Panoramic sunroofs typically use two panes to open wider than traditional sunroof or moonroof ventilating systems.
Spoiler sunroofs pop up in a similar manner to fixed sunroofs but can slide along a track to open fully and to provide clear visibility overhead.
Top-mounted sliding sunroofs can be stored inside the vehicle's roof for added interior space.
The auto glass used for solar sunroofs can be expensive to replace and may require a special order by your dealer for auto glass in Houston.
Common Problems With Sunroofs
According to Houston auto glass experts, a few basic issues are the common causes of most sunroof malfunctions and problems with sunroofs in our area:
Leaks are relatively common for sunroofs and can be caused by trash or leaves blocking the drain lines for these automotive components. Regular cleanings can ensure that these minor problems do not develop into major issues.
Broken tracks and cables can also cause serious damage to your sunroof and could render it inoperable. These repairs can be expensive and may require an extended period of time to resolve.
Damaged sunroof glass should be replaced as soon as possible to ensure the safest driving conditions. Your auto glass technician will clean up any fragments of glass and will install new glass to provide added structural support for your vehicle and to keep out the rain and wind during regular operation.
Working with a qualified Houston auto glass company can ensure that your sunroof is restored to proper working order before you head out onto the road.
At Apple Glass, we can offer comprehensive auto glass services that include Houston windshield repair, side glass replacement and sunroof repairs you can trust. Our mobile team can come to your location for added convenience for most repairs. We also maintain brick-and-mortar locations in The Woodlands and Houston to ensure that you can receive the help you need when you need it most. Call us today at 713-680-1400 in Houston or at 281-296-0600 in The Woodlands to schedule a free quote. We look forward to the opportunity to serve you.