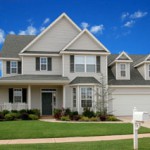 Modern advances in residential glass will allow stronger, more durable and more practical solutions for your home installations. Smart glass may soon be incorporated into Houston frameless shower doors, residential windows and many other areas of your home. Here are some of the most important developments to look for in the next few years.
Electrochromic Glass
Glass that can darken and return to transparency at a touch of a button could revolutionize the world of residential and commercial windows. Electrochromic windows are double-glazed with a thin layer of electronic and ionic conductors between the two panes of glass. These conductors change color with the application of very low levels of electricity. Electrochromic technology is already available and offers significant benefits for energy efficiency in modern buildings. By darkening the glass when the sun is brightest outside and allowing it to return to its original clear state at night or on cloudy days, electrochromic glass windows offer greater versatility for managing temperatures inside your Houston home.
Liquid Crystal Glass
Liquid crystal glass products can provide added privacy in bathrooms, bedrooms and other areas of your home. Like electrochromic windows, this type of glass also consists of two panes of clear glass with a liquid crystal layer sandwiched between them. In its natural state, these smart windows and glass components are translucent and offer superior privacy. When switched on, however, liquid crystal elements can allow clear visibility for you and your family members.
Thermochromic Glass
In cooler weather, thermochromic windows are transparent to let the sun shine in. When exposed to heat, however, these windows change to a reflective white color that blocks sunlight from entering your home. Thermochromic windows require no additional power other than heat from the sun, making them a practical choice for many Houston homeowners.
Repairing Smart Glass
New strategies will be required to perform Houston glass repair procedures on these advanced types of glass. Repairs and replacement for these advanced glass options are likely to be quite costly, especially during the earliest stages of their implementation in the consumer marketplace. In the future, scientists developing electrochromic technology hope to create very thin coatings that could be applied to existing windows, which will reduce the cost of the process. Working with a qualified and experienced glass company can be a solid step toward achieving the best results when installing and repairing the smart glass of the future.
At Apple Glass, we are a leader in Houston auto glass and residential glass repair and replacement. We work with you to ensure the best and most cost-effective results for your needs. If you need emergency glass repair, windshield replacement or shower enclosure installations, Apple Glass can deliver the right options for your needs. Call us today at 281-296-0600 in The Woodlands or 713-680-1400 in Houston to schedule an appointment or to get a free quote from us for your residential or Houston auto glass needs. We look forward to the opportunity to serve you.