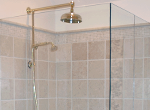 Installing low-flow shower heads can significantly reduce your water consumption while providing ample pressure to ensure a more comfortable showering experience for your family. These green-friendly devices can also aid in ongoing water conservation efforts and can allow you to enjoy years of invigorating showers while reducing your monthly water bill. Companies that install Houston frameless shower doors and enclosures can often provide expert advice on the most practical low-flow shower heads for your needs.
The Advent of the Low-Flow Shower Head
Prior to the development of low-flow fixtures, many shower heads could deliver upwards of five gallons of water per minute. In 1992, the federal government enacted regulations that limited water flow for new shower heads to 2.5 gallons of water per minute, approximately half of the previous allowable water flow. However, the technologies currently available for low-flow shower heads had not yet been developed. This led to a backlash among many consumers and numerous unauthorized alterations to commercially available shower head products by end users.
How Modern Low-Flow Shower Heads Work
Rather than increasing water flow to increase pressure, the low-flow shower heads available today narrow the opening through which water is propelled. This allows modern fixtures to provide adequate water pressure for showering without the excessive water flows once prevalent in U.S. homes. Currently, most low-flow shower heads fall into one of two categories:
Aerating shower heads mix air with water to create higher pressure and to produce an even, predictable stream of water. By incorporating air into the water stream, these fixtures can increase the water pressure available for showering.
Non-aerating shower heads rely on narrowing the tube through which water flows to increase the pressure. These types of fixtures can pulse or vary depending on the water pressure initially available at the source. Non-aerating systems keep water hotter than aerating shower heads and can reduce the cost of running your hot water heater throughout the year.
Choosing between aerating and non-aerating shower heads is largely a matter of personal preference. The energy savings realized by non-aerating shower heads may be overshadowed by the uneven flow of water some of these systems can produce.
Choosing WaterSense Products
According to the U.S. Environmental Protection Agency (EPA), the U.S. uses almost 1.2 trillion gallons of water each year for showering alone. The EPA has designated certain highly efficient shower heads as WaterSense fixtures. To qualify for WaterSense labeling, these shower heads must consistently reduce water flow to two gallons per minute or less and must meet exacting standards for performance and consumer experience in the shower. By opting for these advanced products when upgrading bath and shower fixtures, Houston residents can enjoy a refreshing shower while conserving water and lowering their utility bills to a considerable degree.
Creating a Green-Friendly Bathroom
Houston glass repair and replacement companies can often provide added help in choosing the right fixtures and remodeling solutions for your bath and shower. By working with these home improvement specialists, you can create a stunning new look that reflects your personal aesthetic vision perfectly. Companies that install Houston shower doors and enclosures can often provide expert guidance in choosing the fixtures best suited to your needs and your bathroom configuration. Incorporating low-flow shower heads and faucets into your redesign can help you protect the environment while still enjoying your daily shower.
Working with an established company that specializes in Houston frameless shower doors can help you update your existing bathroom and may even increase the value and appeal of your home. By selecting energy-efficient fixtures and taking steps to conserve water when remodeling your bath and shower, you can enjoy optimal benefits from your home improvement project and can do your part to protect the environment for future generations.
Call Apple Glass Company to learn how their experienced industry professionals can make your bathroom shower a stunning, green-friendly oasis with their frameless shower doors and enclosures.