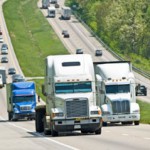 Few American cities have ridden a rougher road in recent years than Detroit, Michigan has. After decades of nothing but prophecies of doom and gloom, there finally is something positive and innovative coming out of this Midwestern city. Thanks to a partnership among General motors, the Michigan Department of Transportation, Ford and the University of Michigan, 120 miles of freeways around the Motor City will be equipped with cameras and sensors that will enable the development of technologies enabling cars to communicate with each other in real time. Although autonomous cars may someday be the standard, there will always be a need for auto parts and accessories, including replacement windshields and windows. That is where Houston auto glass can continue to play a role.
What could this enhanced communication mean to everyday drivers? For one thing, traffic patterns could be made to flow much more smoothly. If, for example, one street at an intersection is much more congested than the other, the built-in freeway sensors could instruct the stoplights to adjust accordingly. Moreover, many serious automobile accidents and crashes are the direct result of human error or intoxication. If these variables were removed from the equation, our roads might well be a great deal safer.
Once the project is up and running, anonymous data will be collected from the cars traveling along these teched-out roads. That information will be relayed to the automakers' research and development departments. Researchers will then use it to further enhance car-to-car communication.
The automated or driverless car is not just something out of a science fiction movie. Even though robotic cars currently exist chiefly as prototypes for demonstration purposes, we seem to be on the cusp of a robotic vehicle revolution. Aided by years of technological research, automakers are now rolling out cars that can gather information about their environments and navigate safely without the input of a human driver. They use technology including global positioning systems (GPS, radar, lidar and computer vision to "learn" about what is around them. Then, advanced systems interpret the data that has been collected, enabling the vehicle's "brain" to determine the best route and to avoid obstacles.
Autonomous vehicle technology might seem far-fetched, but it has been on the minds of General Motors innovators for over 75 years. The first truly autonomous cars were actually developed in the 1980s by researchers at Carnegie Mellon University's Navlab and ALV projects in 1984 and, three years later, by Mercedes-Benz Bundeswehr University Munich's EUREKA Prometheus project. These pioneers paved the way for today's demonstration models. Once fully developed and implemented, the potential benefits of driverless cars are numerous. Drivers could make much better use of the time they spend in their cars, since the automated systems can take over the basic navigation tasks. Furthermore, crashes could be reduced, energy consumption lowered, pollution lessened and road congestion minimized.
No matter how much safer autonomous vehicle technology will make the average commute, some aspects of owning a car or truck will never change. For example, vehicle owners will always experience times when they need to repair or replace their window or windshield glass. Crashes and fender benders will still happen, as will the occasional unfortunate break-in. When the need arises, you can be secure in the knowledge that you have a premium Houston windshield replacement company at your beck and call. Houston windshield repair by experts in the industry is only a click away. When you need us, we will be there. Call Apple Glass Company and our professional staff will provide you with the fast, top quality window glass repair and replacement you deserve.