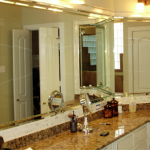 Mirrors can be used to highlight a particular architectural feature, to expand the apparent area of a smaller room and to ensure a natural flow throughout your home. Restoring or repairing antique mirrors can be a challenging process. By enlisting the help of a Houston auto glass company that also provides household glass services, you can create unique focal points in almost any room. Here are seven proven strategies for decorating with mirrors to create a fresh and beautiful new look for your home.
Using Mirrors to Expand Your Space
Larger mirrors placed to reflect windows or doorways can brighten a room while creating the illusion of added space on the other side of the room. This can be especially useful for oddly shaped rooms or long hallways. Interior design experts recommend against placing mirrors at the ends of hallways, however, as this can create a closed-off energy for the area. Mirrors that reflect expansive areas or outdoor landscapes, however, can bring positive energy into your home.
Shedding a Little Light on the Subject
Combining lighting solutions with mirrors can produce added visual interest and can brighten up darker areas inside your home. Be careful not to place high-powered lights too close to mirrors, however, as this can potentially create glare. Instead, install softer lights closer to mirrors to diffuse light and provide an ambient glow to accent mirrors and other elements of your interior design.
Reflecting your Personal Taste
Strategically placed mirrors can be used to reflect paintings, photographs or sculptures to enhance your overall décor. Murals and wall treatments can also be shown to best advantage through the use of mirrors that draw the eye to these features. Mirrored display cases that contain collectibles, souvenirs or other keepsakes can allow a full view of these items without requiring constant handling, reducing the risk that these items could be dropped or damaged.
Indulging Whimsy
Decorated mirrors in bright colors or whimsical designs can add a light-hearted note to your overall decorating scheme. Odd shapes, patterned frames and other ornamentation can make any mirror a focal point for attention and can complement other elements of your home's décor. Companies that provide glass repair in Houston can often cut mirrors to the desired shapes to create a bright and quirky new look for any room in your home.
Creating a Collage
Using one large mirror or several smaller ones to set off family photos, art work or other items of your home décor can create an attractive collage effect that can enhance the appearance of every element of the finished collection. This can be an excellent opportunity to demonstrate your creativity and can add to the unique charm of your Houston home.
Following the Rules of Feng Shui
Mirrors embody the element of water in feng shui design. Depending on their directional placement and shape, mirrors can have significantly different effects on the overall feng shui balance of your home:
Mirrors placed on the east wall promote health and family harmony.
For career success, consider adding a mirror to a northern wall.
Convex mirrors offer added protection for your home while creating a unique focal point for living areas.
Most feng shui experts advise against the use of mirrors in bedrooms or facing entry points into your home.
Brightening the Bath Area
Installing new mirrors in conjunction with a shower remodeling project can completely revamp the look of your bathroom. Houston frameless shower doors are the perfect complement to full-wall mirrors and can provide a sleek, streamlined look for modern bath areas.
As a leading Houston auto glass and household glass repair and replacement company, Apple Glass can deliver top-quality workmanship and outstanding customer service to ensure the most dependable and attractive results. Contact us today or stop by one of our two locations to discuss your glass repair needs with one of our trained technicians. We look forward to working with you.