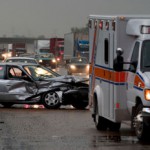 Air bags offer added protection for drivers and passengers on Texas streets and highways. These safety devices cannot perform properly, however, without the support offered by an intact windshield. Investing in a Houston windshield replacement can help you stay safer behind the wheel and can protect your passengers more effectively. Here are some of the most important ways in which your front airbags rely on windshields to provide protection in a collision.
A Solid Backstop for Air Bags
Immediately after a severe front impact, your air bags deploy by bursting outward to provide a softer surface on which you and your passengers can land. Air bags depend on an intact windshield to provide a backstop that directs the expansion of these safety devices toward the driver and passengers. If your windshield is damaged, it can explode outward, limiting the effectiveness of your air bags and potentially resulting in serious injuries for you or those with you in the front passenger seat.
Essential Structural Support
Your windshield is an integral part of the structural framework of your vehicle. If it is weakened by cracks or damage, it cannot provide the support needed to hold your vehicle together during a rollover or other serious collision. This can reduce the effectiveness of your air bags and could result in serious injuries for you and your passengers if a crash does occur. Air bags are one of the most effective ways to protect against traumatic brain injuries. A small investment in Houston windshield repair can pay off in reduced risks for these serious medical conditions.
Containment in a Crash
Your windshield is also designed to keep drivers and passengers inside the car in a catastrophic crash. If it has been cracked or damaged, the impact caused by air bag deployment can result in the entire windshield being pushed out of place or in large openings in the windshield glass. This can result in ejection from the vehicle, which usually results in much more severe injuries for those involved in these serious accidents.
The Houston auto glass experts at Apple Glass can provide you with expert help in dealing with cracked windshields, damaged windows and other issues. We work with you to provide the most convenient and practical Houston windshield replacement and repair solutions for all your auto glass needs. For windshield replacements, our technicians can come to your place of work or a location of your choosing to provide these services. Call us today at 713-680-1400 in Houston or 281-296-0600 in The Woodlands to get a free quote and to schedule your service today. We look forward to serving you.