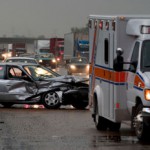 It is easy to forget how dangerous it is to drive during a rainstorm or when the roads are still wet. Of course, your memory suddenly snaps back into place when you hydroplane across a lane and have an accident. Slippery wet roads cause thousands of vehicular accidents every year. Some of them are fatal, and almost all require a trip to a body shop or a Houston auto glass specialist. Here are several good suggestions for recognizing dangerous situations and driving safely on wet roads.
Everybody knows that oil and water do not mix. A rainstorm, especially a real gully-washer, demonstrates this fact perfectly. As the rain builds up on the road's surface, oily dirt is forced from the pavement and sits on top of the roadway. That makes it hard for your tires to get good traction. Your car is likely to spin its wheels and fishtail or slide around on the greasy surface. Many Houston windshield repair companies receive a lot of business after thunderstorms or long downpours.
The most effective way to maintain control of your vehicle is to lay off the accelerator. It is better to arrive at your destination a few minutes late than to have a collision. Lower speeds mean improved stability and control because your tires tend to flatten out and grip more of the road. Smooth, even driving is the key. Jerky movements when turning, stopping or accelerating will make your car skate across the water, which is called hydroplaning.
It is important to maintain a safe distance between your vehicle and others who are sharing the road with you. Stopping on wet asphalt takes three times as much distance as on a dry road. All-weather tires do not give you immunity from sliding during a sudden stop. In normal conditions, it is advisable to stay one car length behind another vehicle for every 10 miles per hour of speed. When driving on wet roadways, that number should be doubled if possible.
Keep an eye out for brake lights in front of you, and turn your headlights on in any weather that forces you to turn on your windshield wipers. That is a law in many states. Do not use cruise control in a storm. Stay alert, and work the accelerator yourself.
Recovering from a skid requires forethought. Never hit the brakes hard if you start to slide. That will only make the situation worse. Slowly press on the brakes. If you begin to fishtail, turn into the skid. Do not pump your brakes, especially if your vehicle has anti-lock brakes.
If you start to glide across the road due to hydroplaning, gently apply the brakes. Release the clutch if you have a manual transmission. Your car will lose speed gradually.
Never drive in a storm if you are tired or distracted. This is good advice whenever you are driving, but it is even more important when the roads are wet. You must be alert. Do not eat, drink, adjust the radio or talk on your cell phone. Keep both hands on the wheel to maintain complete control, or you may end up needing windshield replacement in Houston.
Be sure your tires are safe and properly inflated. Check them every month. Get them rotated regularly to guarantee that they wear evenly. If your home is in an area that has frequent heavy rains, you should invest in high-quality all-weather tires.
If you do have auto glass damage on a wet roadway, contact Apple Glass for windshield repair or replacement. We provide fast, dependable service for The Woodlands and the greater Houston area. We even have a mobile service that will come to your home or place of business to perform the repair or replacement.