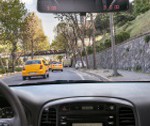 Despite your best efforts, the interior of your windshield may take on a hazy, streaked appearance over time. If you are a smoker, a lot of that film probably comes from tobacco smoke. Even if you do not smoke, however, pollutants inside and outside your vehicle — including engine smoke and smog — will slowly but surely cause a film to develop. Just as you would take your car to a Houston auto glass repair shop if it became chipped or cracked, you need to address the streaky, hazy windshield to ensure that you can see clearly wherever you go.
The Trouble With Regular Glass Cleaners
You may have noticed that regular glass cleaners do not seem to work on car windshields. Even though they are ostensibly deigned to clean glass, they seem to cause more harm than good inside the windshield of a car. Part of the problem is the nature of the grime that accumulates there. It just does not respond well to traditional glass cleaning solutions. Instead of breaking down oils and other residue, regular cleaners often simply move them around, resulting in even more streaks. Needless to say, that is extremely frustrating. Luckily, there is a proven, effective way to clean a car windshield, and you probably already have what you need.
Gather What You Need
First, start by gathering everything you will need to clean your windshield. The first step is to make the cleaning solution, which consists of one cup white vinegar and one cup water. You can adjust the amounts as needed as long as you use equal amounts of both. Pour them into a spray bottle. You will also need towels, microfiber cloths and safety glasses. Get everything ready to go so that you can get down to business with cleaning your car's windshield.
How to Clean the Inside of Your Windshield
When a chip or crack appears on your windshield, you will need to bring it to a Houston windshield repair company to have it corrected right away so the damage does not spread. By knowing what you need to clean the inside of your windshield and how to do so effectively, you will not have to drive around with a streaky, hazy film that can affect your ability to see the road. Follow these steps to effectively clean the inside of your windshield:
Shake the bottle well. White vinegar works wonders when it comes to cutting through oil, dirt and other residue, but it needs to be effectively combined with water for maximum effect.
Lay towels over the dashboard to protect it from the water-and-vinegar solution, which may cause damage depending on the materials it's made out of and other factors. Better to be safe than sorry!
Liberally spray the solution over the entire interior of the windshield. Since you have laid down towels, you can safely douse it to the point where it is dripping down. This is the best way to ensure that every last inch is thoroughly cleaned — and that every last speck of dirt, dust, oil and other debris is washed away.
Wipe down the windshield with a clean, dry microfiber cloth. As the cloth gets damp and dirty, flip it over to ensure optimal results. Switch to new, dry, clean cloths as needed as well.
Depending on how long it has been since you thoroughly cleaned the windshield, you might want to repeat the process to get it as clean and sparkling as possible.
The vinegar odor should dissipate quickly. If it bothers you, though, take the car for a spin with the windows rolled down to make it fade away more quickly.
You can easily handle cleaning your windshield, and you should make sure to do so on a regular basis. When damage occurs, however, contact Apple Glass for superior Houston windshield replacement and repair services.