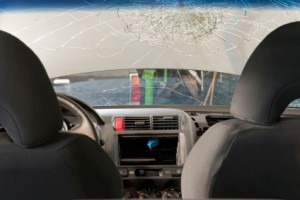 Maintaining your auto glass in Houston can help you stay safer on the road and can ensure clear visibility for you behind the wheel. In some cases, however, it may be necessary to break your auto glass to resolve an emergency situation. Practical suggestions can ensure the safest way to break your auto glass if you are trapped inside or locked out of your car.
Use Sufficient Force
The side and rear windows of your car are usually made from tempered glass, which is significantly harder to break than normal plate glass. You may need a rock, brick or other hard object and repeated blows to get through these panes of glass. Be sure to focus your strikes on a specific spot to maximize their effect. If you are trying to rescue a baby or child, choose the window farthest from them to break. This can reduce the risk of flying glass when your efforts are successful.
Avoid Breaking the Windshield
Side windows are much easier to break than windshields, which are constructed of laminated glass that provides several layers of protection against breaking. Additionally, a full Houston windshield replacement is often much more expensive than replacing a side window. Choosing the right point of attack can help you to resolve your issue quickly and in the most practical way possible.
Use the Headrest in a Pinch
If you need to break out your car window from inside your car, your headrest can often be used as a tool to smash your auto glass. By pulling your headrest completely free of your seat and using it to apply sharp blows to the inside of your window, you can often dislodge it from its tracks or break it out entirely. This can allow you to make your escape more easily and with less risk to yourself in these emergency situations.
Schedule a Repair as Quickly as Possible
Whether your auto glass in Houston was broken by a deliberate act or by accident, arranging to repair the damage as quickly as possible can increase the safety and security of your vehicle. Working with a qualified Houston windshield repair and auto glass company can be a good first step toward protecting the value of your vehicle while ensuring the greatest safety for you and your passengers.
At Apple Glass, we specialize in providing you with the most practical and cost-effective auto glass in Houston and The Woodlands. We maintain two quality brick-and-mortar shops and offer mobile auto glass and windshield repair services to provide added convenience for our customers. Call us today at 281-296-0600 in The Woodlands or 713-680-1400 in Houston to get a free quote. We look forward to the opportunity to serve you.