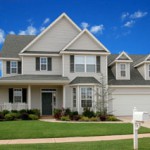 Since the first human dwellings were constructed millennia ago, windows and other openings have been included to allow smoke from cooking and heating fires to escape and to ensure adequate fresh air in otherwise enclosed environments. Removable coverings of wood, hides and fur offered greater flexibility in controlling temperatures inside homes; window shutters represented a significant breakthrough and could be closed or opened as weather conditions allowed. It was not until approximately 100 A.D., however, that glass became a common material for windows in homes and public buildings. Today, homeowners and landlords can preserve the integrity and efficiency of residential windows by consulting with Apple Glass Company, an established firm that provides expert glass repair in Houston and the surrounding areas.
The Rise of Energy Efficient Windows
While innovations in stained glass and decorative options for windows have been around for many years, it was not until the early part of the 20th century that the effects of sunlight and radiant heat became part of the consideration process. The skyscrapers erected during the 1920s and 1930s received far greater exposure to light than the shorter buildings in the urban landscape. Architectural designers began developing ways to prevent heat buildup in these buildings. Double-glazed windows were a first step toward insulating buildings against ambient heat and were widely implemented in the 1940s and 1950s. It was not until the 1970s and the U.S. energy crisis, however, that a concerted effort began to increase the energy efficiency of windows for residential and business use.
Modern Window Technologies
With the help of federal funding, researchers were able to develop new window technologies to improve comfort and reduce heating and cooling costs for consumers and businesses. Some of the most important advances included the following:
Adjustment of the space left between the panes of double-glazed windows to maximize the insulating power of these products
Low-emissivity (low-E) coatings that prevent ultraviolet rays from penetrating glass and increasing heat inside homes and business
Electrochromic glazing techniques that use electrical current to adjust the reflectivity and tint of windows for added control
Improved sealing methods for residential window installations
These technological advances afford greater comfort inside homes and offices while reducing the cost of heating and cooling throughout the year.
ENERGY STAR Windows
The ENERGY STAR program was established in 1992 as a joint effort between the U.S. Department of Energy (DoE) and the Environmental Protection Agency. Initially intended to promote energy efficiency in the U.S., the program has been adopted by the European Union, Japan, Australia, Canada and other countries as a way to identify products that meet stringent ENERGY STAR standards. Windows certified by ENERGY STAR typically reduce heat gain during the summer months and provide superior insulation throughout the year. According to figures compiled by the DoE, replacing older single-pane windows with ENERGY STAR models can save homeowners an average of 12 percent on their annual utility bills and can significantly lower their carbon footprint to preserve the environment for future generations.
How Apple Glass Can Help
At Apple Glass Company, we offer residents of The Woodlands and the Houston metropolitan area the most advanced and reliable auto glass repairs and replacements to ensure their safety on the road. Our Houston glass repair team can perform repairs at a location of your choosing or at either of our two conveniently located shops. We also provide a full lineup of residential window repair and replacement services. Apple Glass sells and installs ENERGY STAR replacement windows from top manufacturers that include Simonton and Pella. These advanced windows can help your home look its best while ensuring the lowest possible heating and cooling bills for your family. Contact us today to discuss your glass repair and replacement needs with one of our friendly and knowledgeable staff members or stop by to experience the best customer service in the Houston area.