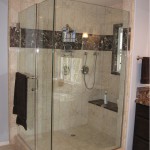 According to the experts at the U.S. Environmental Protection Agency, mold can present serious health problems when significant buildups of this unwanted growth occur inside private residences, commercial buildings and other areas where people spend significant amounts of time. If you have recently arranged for the installation of frameless shower doors in Houston, making sure that these glass enclosures stay clean and free of mold can help you protect your investment and the health of your family and friends. Here are some helpful tips for preventing and removing mold buildup in your bath and shower.
Manage Moisture Levels
Installing and using a bathroom fan is a good first line of defense against excessive moisture in your bath areas. These devices can eliminate the steam created by showering and can reduce the risk of mold and mildew growing around your shower doors in Houston. This can lower the chance of an allergic response by one of your family members and can provide a healthier environment for everyone in your home.
Remove Water Manually
Another method for reducing moisture in your shower is to towel down or squeegee all the glass surfaces of your Houston shower doors and the tiles that surround your bath and shower. This can eliminate the moisture that can contribute to mold growth and can provide a cleaner, more healthful environment inside your bathroom.
Create Your Own Cleaning Solution
Most types of mold can be removed safely with easily mixed household cleaners:
A mixture of equal parts of ammonia and water can be sprayed directly onto the mold and left for 10 minutes to kill these growths and make them easier to remove.
Plain white distilled vinegar can also be used at full strength to remove black mold from most surfaces.
Mixing baking soda in even parts with water can allow you to create a scrubbing solution that will quickly and easily remove most types of mold from your bath and shower while leaving behind a fresh, clean scent.
One cup of borax diluted in one gallon of water can also be used to create an effective treatment for black mold growth in your bath. Borax should be kept out of reach of children and pets because of its potential toxicity.
By making sure mold is removed before it can build up on your frameless shower doors in Houston, you can enjoy the healthiest and most beautiful bathroom possible.
At Apple Glass, we can create custom frameless shower doors in Houston and shower enclosures to suit your décor and your budget. Our team of Houston residential glass experts will work with you to make sure your project is completed on time and to your satisfaction. Call us today at 281-296-0600 in The Woodlands or at 713-680-1400 in Houston to discuss our services and to schedule a free quote. We look forward to the opportunity to serve you and your family.