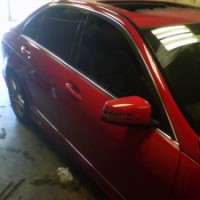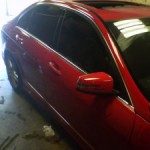 Tinted windows are very popular nowadays in Houston. Some people have tinted windows in their vehicles and in their homes. Like all glass, tinted windows must be cleaned regularly. All it takes to clean them is a soft touch, the right cleanser and a lint-free cloth. Some companies specializing in glass repair in Houston and The Woodlands also offer window cleaning services.
In the extremely bright sun of Texas, almost all Houston auto glass will protect a vehicle's occupants and the interior better if it is tinted. Tinting keeps the bright sunlight from beating down on you and your passengers while you are driving. It also reduces glare from oncoming headlights and the reflection from other vehicles in traffic. The tint provides some measure of privacy at any time of the day or night.
Homes will also benefit from tinted windows. Some tints block out the UV rays only, which acts as insulation for your home. Other tints are darker and block the sun's rays well enough to protect your curtains, shades, carpeting and furniture from the bleaching effects of the sun.
Your vehicle might have been fitted with tinted windows when it was manufactured, or you could have taken it to a Houston windshield repair company to have the tinting film applied professionally. The same is true for houses. You can buy pre-tinted windows for your home, or you can have your current windows treated by a Houston glass professional.
Tints come in three basic colors. You can have your windows tinted in bronze, silver or dark grey. Regardless of which color you have or whether your tinted windows are on your car or your home, cleaning them is not as easy as just grabbing a bottle of strong cleanser, a squeegee, a sponge and paper towels and scrubbing your dirty windows vigorously. That will damage the window tint instead of cleaning them.
Tinted windows have to be cured before they can be cleaned for the first time. Curing can take up to a month for factory-tinted windows and five days for windows that were coated with tinting film. Do not clean your tinted windows until they have been cured for an appropriate amount of time.
Follow these steps to clean your tinted windows.
Gently wash the inside and outside of your tinted windows with warm water. This will remove any large pieces of debris that may be adhered to the surface.
Assemble your cleaning arsenal. You will need soft, lint-free cloth and a mild cleaning agent. Never use an abrasive powder or scouring cloth that could scratch or tear the delicate surface of the window. Do not use harsh cleansers that contain ammonia. Ammonia will degrade the polyester emulsification and cause fading and spotting, which lessens the effectiveness and shortens the life of the tinting film. When shopping for a cleanser, check the ingredients, and do not buy anything that includes ammonia or any other strong cleansing agents. It is better to make your own cleanser from water, mild dishwashing liquid and diluted vinegar.
Fill a spray bottle with the cleanser, and spray a small section of the outside of the window. Fold the cloth, and gently wipe away the liquid with a circular motion. Gently dry the window by dabbing it with the soft cloth. Repeat this process until the window is clean.
Then, move on to the outside of the other windows, and follow the same steps.
Gently cleanse the inside of the windows in the same manner.
Carefully cleaning your tinted windows will extend their life expectancy considerably. Some tints last between 10 and 15 years. The key is to be gentle, use the right supplies and take your time.