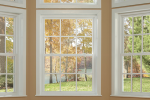 Your windows provide clear visibility and ventilation options for your home. Making sure these key structural elements are in good shape can help you manage utility bills and enjoy greater comfort inside your residence. Working with a company that performs professional glass repair in Houston can help you improve the energy efficiency of your home. Here are some proven strategies for checking the condition of your current windows and determining if new windows could enhance your indoor comfort and increase the value of your home.
Take a Good Look
In some cases, you may be able to spot problems with your windows by making a simple visual inspection. Gaps and breaks in your window glazing can allow air to pass freely in and out of your home, reducing your indoor air quality and limiting the effectiveness of your climate control system. Moisture trapped between the panes of double-glazed windows may indicate a leak that is allowing air to pass into this space. Your local Houston glass repair company may be able to repair or restore your windows to increase energy efficiency inside your home.
Check for Drafts
This method requires turning off all HVAC equipment and indoor fans before lighting a stick of incense or a candle and moving it in front of windows and doors. If the smoke blows inward or is drawn toward the window, you may have an issue with leaks that could be costing you a considerable amount in wasted utility bills. In some cases, a flashlight can be used to check for gaps around the frame of your windows and doors by having another person go outside and shine the flashlight around windows and doors after dark while you observe from inside. Taking steps to correct these issues can help you save money on heating and cooling during every season of the year.
Consult with the Professionals
Scheduling an evaluation from your local residential glass repair and replacement company can provide you with the most accurate information about the condition of your windows and the best solutions for your Houston home. By requesting a professional inspection from expert glass technicians, you can enjoy greater confidence when renovating or replacing your windows and doors.
The Houston auto glass professionals at Apple Glass can provide you with expert repair and replacement services for windows throughout your home. We offer the latest in energy-efficient windows to ensure that your home stays comfortable and cool even on the hottest summer days. Call us today at 281-296-0600 in The Woodlands or 713-680-1400 for glass repair in Houston to schedule an appointment with one of our friendly and knowledgeable residential glass experts. We look forward to the opportunity to work with you and your family.