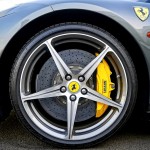 The brakes are among the most overworked equipment on your vehicle. If they stop working, you could find yourself in a dangerous or possibly deadly situation. Maintaining your brakes is as important as making sure that your Houston auto glass is free from defects. It is far better to be proactive than to suffer brake failure. Here are some tips on what to do if your brakes suddenly stop working.
The best way to avoid other traffic is to turn on your four-way flashers. Then, pull onto the side of the road as you slow down. You will avoid a windshield repair in Houston if you can get off the highway or street safely. Do not downshift too quickly. With a manual or automatic transmission, downshift one gear at a time until you get to the lowest gear. Make sure that nothing is preventing the brake pedal from depressing.
Vehicles with an anti-lock brake system (ABS) can be halted by downshifting to a lower gear and lightly tapping the brakes frequently to build up pressure. Then, step firmly on your brake pedal. This process enables you to retain control of the steering. When your brakes lock completely, you cannot effectively guide your vehicle.
If your car or truck does not have anti-lock brakes, pump the brake pedal quickly. As you pump the brakes, grab the emergency brake handle, and pull it. If you go into a skid, release the emergency brake, and do it again. The emergency brake is separate from the main braking system that connects your brake pedal to the brakes via hydraulics. It can be very handy if your brakes fail, especially if you have practiced using the emergency brake.
This type of situation can be avoided by maintaining your brakes. Make sure that the brake fluid is full in the master cylinder. If it is discolored, have it changed. Check to see if there are any leaks in the brake fluid lines by looking under your vehicle and the side of the tires that face the underside of your car, truck or SUV.
Your driving habits can also contribute to the wear and tear on your brakes. Driving aggressively or continuously negotiating stop-and-go traffic will wear down the brake pads quickly. Also do not ride the brake pedal while you drive. Your brakes will last longer if you modify the way you drive. If you hear a metal-on-metal sound, have your brakes checked.
Contact Apple Glass if you need a Houston windshield replacement. Chips and scratches can become dangerous cracks quickly. We can be reached online, or you can call us in The Woodlands at 281-296-0600. Contact our Houston office at 713-680-1400.