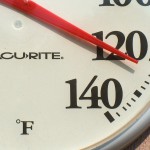 Rising temperatures can put added strain on the engine of your car, SUV or truck. Just as you depend on your Houston auto glass professionals to provide expert repairs and replacement services when this vital component of your vehicle is damaged, a local mechanic is usually your best bet to resolve chronic overheating issues. If you are stuck at the side of the road, here are some helpful overheating engine tips to get you to the repair shop safely.
Give Your Car a Time-Out
An overheating car requires time to cool down to a safe temperature. As soon as the temperature gauge in your vehicle climbs to an unsafe level, pull to the side of the road, shut down the engine and open the hood carefully. Caution is required when opening the engine compartment. If radiator issues are to blame for the problem, hot steam could potentially cause serious injuries to you or others around you. By allowing your vehicle to cool down at least partially before opening the hood, you can avoid these risks and ensure the safest experience for yourself and your passengers.
Refill Your Antifreeze
Your car depends on a circulating mixture of water and antifreeze to control engine temperatures. Just as one small unrepaired crack can eventually require a complete Houston windshield replacement, one small leak can cause serious problems for your vehicle over time. A trip to your mechanic as soon as you notice the telltale signs of a coolant leak could potentially save you from an overheating engine later. If the damage has been done, however, adding a mixture of water and coolant to your radiator tank after your engine has cooled can sometimes allow you to drive to the mechanic's shop safely. Never try to remove the radiator cap until the car has cooled down to roughly room temperature, however; this could result in serious burns and could damage your vehicle.
Check Your Hoses
If a hose bursts, your car or truck could overheat in almost no time. Identifying the problem can sometimes allow you to tape up the hose temporarily, allowing you to make the trip to your auto shop in safety. This is only a stopgap measure, however, and should not be confused with an actual repair for the problem.
At Apple Glass, we know you depend on your vehicle every day. That is why we offer comprehensive Houston windshield repair and replacement services designed to suit your needs and your busy schedule. We can come to your office or perform your repair work in one of our two conveniently located shops. Give us a call today at 713-680-1400 in Houston or 281-296-0600 in The Woodlands to enjoy the best service and the fastest solutions for all your Houston auto glass repair and replacement needs. We look forward to serving you.
Save