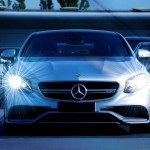 You may have seen brighter, whiter headlights out on the road recently. The use of halogen headlights has been decreasing, and high-intensity discharge (HID) and light-emitting diode (LED) headlights will soon be the most commonly used headlights on new vehicles. If these brighter lights are causing excessive glare while you are driving, a Houston auto glass company can check your windshield to see if it needs to be repaired or replaced.
Types of Headlights
There are currently three kinds of headlights.
Halogen is still the most widely used version. They glow at 3,200 on the Kelvin scale.
LEDs illuminate at 6,000 K. Their light appears whiter than daylight. They reflect better than HID or halogen bulbs. LED lights are usually more expensive, but they last longer and use less power.
HID/xenon headlights measure 4,500 K. They direct light better and more evenly. They also generate more lumens than the other two types.
BMW and Audi are developing laser headlights that they claim will be 1,000 times better than LEDs
Halogen headlights provide a small area of light directly in front of the vehicle. LEDs and HIDs illuminate a larger section of the highway.
HID headlights have been in use for some 15 years. They are most frequently seen on high-end vehicles, but there are conversion kits that you can buy to switch from halogen to HID. One factor to consider is that HID lights lose nearly 70 percent of their intensity after about 2,000 hours of use. Just as you would need a windshield replacement in Houston when your windshield has pits or cracks, you should also replace your HID lights if you notice that they no longer seem as bright as they were originally. This is especially true if you drive an older vehicle.
Proper High Beam Use
Some people whose bulbs burn out make the mistake of using their high beams whenever they drive at night. High beams are also called bright lights. They can light up three times as far as your low beams. That makes them valuable on darker, unfamiliar roads and in construction zones, but they are not meant to be used continuously. They can and do cause accidents when they are not used properly. Here are some tips on their use.
Do not use your high beams when another car is approaching.
If an oncoming motorist is using high beams, avoid looking directly at them.
If your vision is being affected by a driver using high beams behind you, adjust your rear-view mirror so that the light is not shining directly into your eyes.
If you need a fast, efficient windshield repair in Houston 713-680-1400 or The Woodlands 281-296-0600, give us a call. We also provide commercial and residential glass services at both of our locations.